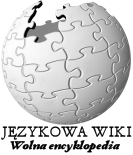 No higher resolution available.
This page incorporates text from Językowa Wiki.
Description
The logo of Językowa Wiki.
Date
24 August 2010, 13:59 (original upload date)
Author
LingVista
Source
Językowa Wiki
License
cellspacing="8" cellpadding="0" style="width:100%; clear:both; margin:0.5em auto; background-color:#e2f2d2;border:2px solid #acce79;"
The copyright holder of this work allows anyone to use it for any purpose including unrestricted redistribution, commercial use, and modification.
Ta grafika ma zastrzeżone prawa autorskie. Jednakże można ją dowolnie reprodukować, dystrybuować, transmitować, używać, modyfikować, dołączać do innych prac, lub eksploatować w inny sposób, komercyjny lub niekomercyjny, z atrybucją lub bez atrybucji wobec właściciela praw autorskich.
Powyższe użycie podpada pod zrzeczenie się odpowiedzialności.
|- |}
File history
Click on a date/time to view the file as it appeared at that time.
Ad blocker interference detected!
Wikia is a free-to-use site that makes money from advertising. We have a modified experience for viewers using ad blockers

Wikia is not accessible if you've made further modifications. Remove the custom ad blocker rule(s) and the page will load as expected.