Catawba is an extinct language formerly spoken by the Catawba of the United States. The language went extinct due to the introduction of English to the tribes of Catawba. Its last known speaker, an impostor known as Cromwell West, or Red Thunder Cloud died on January 8, 1996. Currently, the tribes are trying to revive the language, as not all information was lost.[2][3][4][5]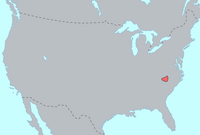 References
Edit
External links
Edit
This article about an extinct language is a stub. You can help Languages Wiki by expanding it.
Template:US-stub
Template:OK-stub
Template:NC-stub
Template:SC-stub
Ad blocker interference detected!
Wikia is a free-to-use site that makes money from advertising. We have a modified experience for viewers using ad blockers

Wikia is not accessible if you've made further modifications. Remove the custom ad blocker rule(s) and the page will load as expected.